A Fine Line is a graphic adventure game that takes players through a story where their choices affect affect their friendships and ultimately the outcome of the experience. Player's play in a first-person perspective as they navigate their final semester of college with the goal finishing school successfully while keeping their friendships.
Take a look at the True North Project Blog for more details about the game.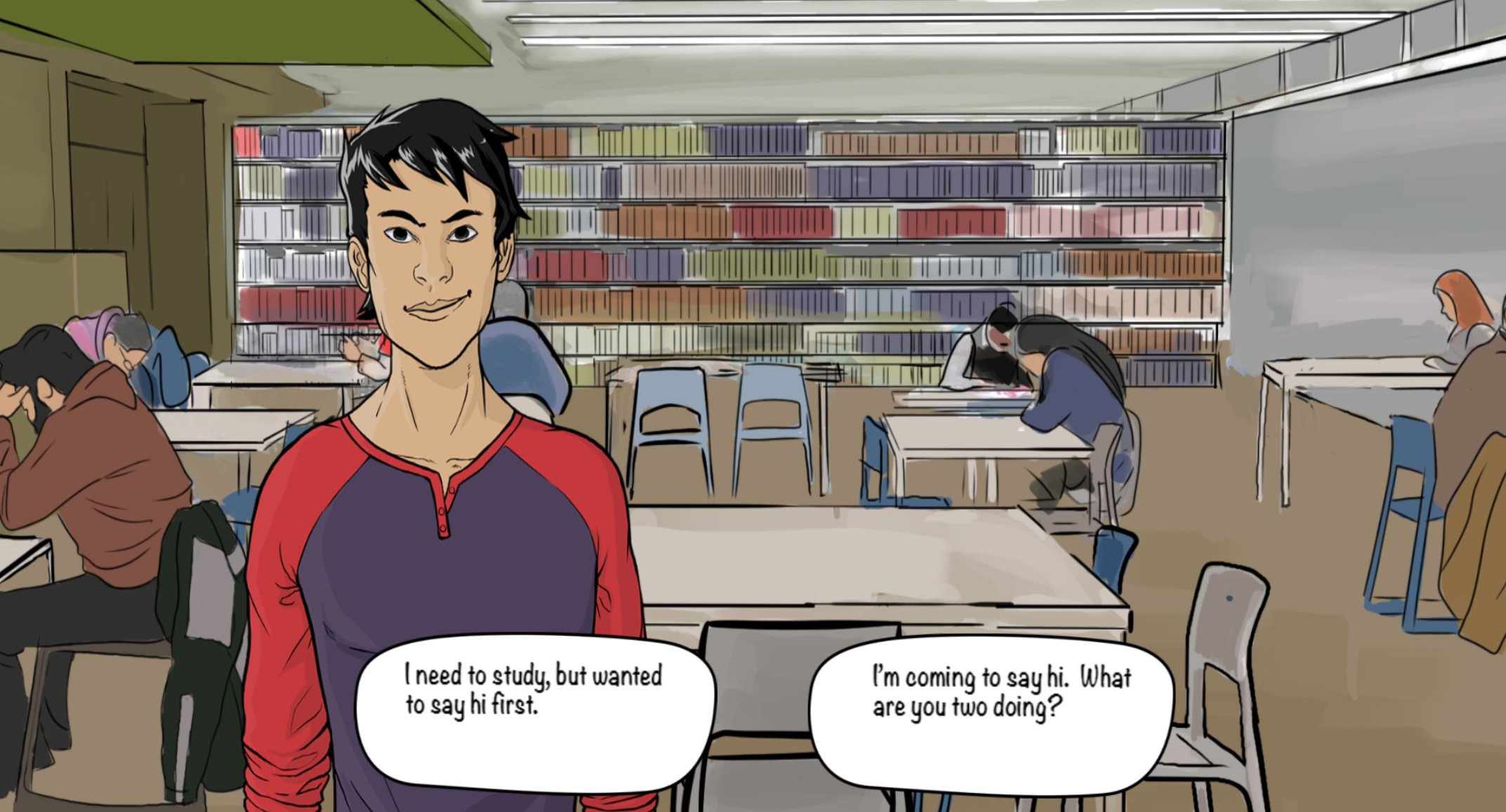 Design Thoughts
Key Design Pillars
Impact the player
Comic-book style & visually interesting
Emphasis on player choice
Relatable characters and locations

Teach Players:
Understanding of how violations harm
How to recognize situations and take action
Understand of standards of integrity
Some of these design points came from learning objectives defined by the client for the game, CMU. Their main goal was for players to learn about academic integrity and be able to think under pressure in situations that relate to academic integrity.
Design Gameplay & Mechanics
I created the two main gameplay systems: The Relationship System and the Integrity System.
These were created to replicate the real life pressures of the situations that we placed players in during the game. In addition, they makes players think about how to balance their relationships with their personal integrity during play.
Initial Prototyping
For the initial prototype of the game my goal was to implement the main elements of the gameplay, that being the characters, backgrounds, dialogue, and dialogue choices. The main focus during this part was to set-up a system for adding dialogue for characters and adding dialogue choices for players. At this point, the dialogue choices did not cause any branching in the story, but we were preparing for it.
Determine Dialogue & Choice Style - One of the most important parts of the game is dialogue and decision making. That is the player's main method of interaction in the game! Before designing the style for showing dialogue and choices, I researched other ways games have implemented dialogue choices. I referenced games like Dragon Age, Mass Effect, TellTale Games series, Persona 4, and even visual novels. I analyzed the pros and cons of each of these methods and try to determine if any would be an appropriate style to use for our game.
I decided to make the dialogue style a mixture between TellTale Games' style, comic books, and visual novels. In this version there is a text box along the bottom of the screen that shows dialogue from a character or the player. It also will display dialogue choices from top to bottom like an adventure game or traditional visual novel. The text boxes are hand drawn to feel more like a comic book.
There were a few problems with this dialogue design. 1st, except for color it did not distinguish the player's dialogue from the character's dialogue well. 2nd, It felt more like a visual novel and less like a comic styled graphic adventure. 3rd, players were confused about when they could make dialogue choices. I decided to move the dialogue box to the middle of the screen and the box would have a different position based upon which character was talking and that character's position. I also added tails that extended from the box to the character to stylize the dialogue more like a comic book. The player's dialogue/choice box are along the bottom of the screen with tails coming from the edge. (signifies that the dialogue is coming from the player.)
Here is the FINAL DESIGN of the Dialogue (left) & Choices (right)